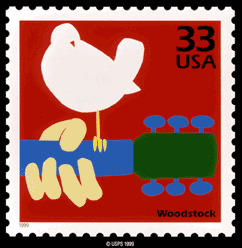 The Woodstock Music and Art Fair began on August 15, 1969. It was held at Max Yasgur's dairy farm in Bethel, New York, USA until August 17.
The festival bears the name 'Woodstock' because it was originally scheduled to take place in the town of Woodstock, in Ulster County, but the town offered no appropriate site to host such a large event. A site was found in the town of Wallkill; local opposition arose, however, and the event was almost cancelled altogether. But Sam Yasgur persuaded his father Max to allow the concert to be held on the family's alfalfa field, located in Sullivan County, which lies about 40 miles southwest of Woodstock itself.
Although the show had been planned for a maximum 50,000 attendees, over 500,000 eventually attended, most of whom did not pay admission.
Performers include The Band, Jimi Hendrix, Joan Baez, Ravi Shankar, Janis Joplin, The Who, and Jefferson Airplane.
Other artists and bands included: Jeff Beck Group; Blood, Sweat & Tears; Paul Butterfield Blues Band; Canned Heat; Joe Cocker; Country Joe and the Fish; Creedence Clearwater Revival; Crosby, Stills, Nash & Young, Grateful Dead, Wavy Gravy, Arlo Guthrie. Tim Hardin, Keef Hartley, Richie Havens, Incredible String Band, Melanie, Mountain, Santana, John Sebastian, Sha-Na-Na, Sly and the Family Stone, Sweetwater, Ten Years After, Johnny Winter.
Community content is available under
CC-BY-SA
unless otherwise noted.